A white Christmas is odds-on in some parts of the country, according to bookies – but people planning on betting should be careful to read the rules before risking their money.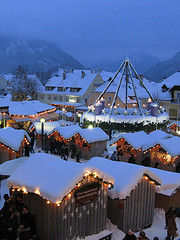 According to William Hill, this year sees the shortest odds ever offered this near to December 25th, with a surge of betting prompted by the early freeze.
It's offering 5/6 on Aberdeen having a white Christmas, with Edinburgh, Glasgow and Newcastle at 11/10 and London and Liverpool priced at 6/4.
Paddy Power has London at 10/11, with most Irish locations at evens (and Lanzarote at 25/1 – good luck with that).
But all bookies agree that punters need to be sure they know what counts as a white Christmas before they decide to take the plunge and risk actual money.
William Hill spokesman Rupert Adams said: "The definition of a white Christmas is for one flake of snow to fall over the 24hr period of Christmas day, confirmed by the Met Office. So snow already on the ground does NOT count as a white Christmas for bookies."
And Ladbrokes added: "The rules state that while a single flake is enough throughout the 24-hour period of Christmas Day, it must be snow – hail, ice pellets or soap powder will not count."
Paddy Power operates to a slightly different set of criteria – being Irish, it doesn't use the UK's Met Office but instead relies on wunderground.com, the service that provides the six-day forecasts offered on this site (see below).
But it, too, insists that snow must actually come down on the day rather than lie on the ground from a previous fall, warning "1mm of snowfall must be recorded as falling between 00:00 and 23:59 on Dec 25th 2010".
If you're planning on having a flutter anyway, the Met Office produces a detailed and attractively-presented factsheet on the frequency of white Christmases in this country, which you can download as a PDF here.