There aren't many working days left until the Christmas break – some people have knocked off already – but with the snow expected to last well into January it's worth knowing what your rights are if the weather forces you to miss work.
You might find you simply can't make the journey because the roads are too bad or because public transport is disrupted – or you might be able to travel, but have children whose school has been closed, and no way of looking after them except by staying at home.
So where does that leave you, legally?
The government's Directgov advice service has produced this useful video setting out a summary of your rights:
The basic advice is pretty much 'talk to your employer'. There may be a company policy already in existence and, if there isn't, you and other staff in your position may be able to agree a temporary one.
You may also find relevant information in your employment contract, staff handbook or company intranet – and, of course, if such policy exists your boss must follow it no matter how easily they themselves got into work!
Some options that bosses are allowed to consider are asking you to work at home (or make up the hours later), giving you unpaid leave or making you use some of your holiday allowance. However, there are restrictions surrounding all three.
You can't be forced to take unpaid leave unless your contract already allows for it. They can suggest it, but they can't force you to accept. Of course, you might choose to agree if the alternative is losing a holiday day that you want to hang onto.
Again, flexible working cannot be forced unless it's already in your contract. But, again, they can suggest it and you might well want to agree.
Using annual leave can be enforced by your boss, but if you'll be burning your statutory holiday entitlement they have to give you twice as much notice as the length of time they want you to take. For instance, if they want to insist on everyone staying at home for a week, using annual leave, they have to give a fortnight's notice. However, if your contact allows you more than the legal minimum holiday allowance, this extra holiday can be docked without any restriction.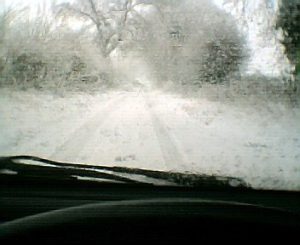 All this assumes you can't travel because of the weather. If the problem is that you suddenly have to look after a child who ought to be at school, if only it weren't closed, then the advice gets a bit more vague.
Directgov says "you probably have the right for time off to look after them", which isn't hugely reassuring. It adds that your employer doesn't have to pay you for this.
Two things to bear in mind, whatever the reason you can't get in.
First, your boss has to treat all employees equally. It's not legal to treat workers differently based on how far away they live, or whether they're parents, or because they're part time.
Secondly, if the weather causes the workplace itself to close and you can't work from home then that's it – you've got a free day off. You can't be docked pay or annual leave if there's nowhere for you to work.